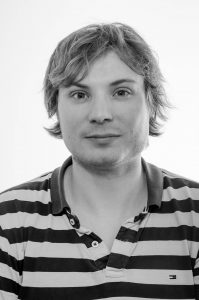 My name is Jan Bakalar (Bachelor is the English translation of my surname) and I am originally from Prague, Czech Republic. Despite my keen interest in IT from early childhood, which included a lot of programming in QBasic and scripting complex batch files in MS-DOS, I chose to do a Bachelors degree in Psychology (BSc.) followed by a Masters degree (Msc.) in Organizational Psychology at the University of Nottingham. 
Yet I remained faithful to I.T. and managed to combine both fields. Even for my dissertation, I chose to design an eshop where people bought holiday packages and I simulated a number of errors in it (payment failing, website crashing unexpectedly, etc.) that led to participants having to respond. I spotted some significant differences between men and women and received a high mark, leading to a first class degree – while my level of English was barely fluent at the time.
After a brief work experience as a Health Care Assistant for the NHS, my wife and I moved from England back to Prague where I worked in I.T. Helpdesk environments and build my tech skills up. I was inspired by some tech gurus like Paul Browning who motivated me to keep learning on and get certifications done.
Consequently, I studied and passed exams for the following certifications:
ITIL v3 Foundation + Service Operations
Cisco CCENT
AWS Solutions Architect Associate
ISO 20001 Auditor
Prince 2 – Foundation
Sig Sigma – Green belt
With growing work experience since 2008, I realized the great potential of optimizing business workflows on a large scale. See the Jan's Previous Projects section below for more details.
How do I work?
My approach is both analytical and friendly. I try to get to know the people in the organization and get to know the existing processes before looking for ways of improving them through IT technology.
1.How
Watch people how they work and engage each team both top-down & bottom-up to gain insight.

Create meaningful relations and gain deep understanding on how the business operates.
2.Why
Identify value added and non-value added steps in processes, challenge why are things done the way they are (5-whys & fishbone methods), spot frustration points for workers inc. un-necessary beaurocracy.
3.What
Determine ways of simplifying and improving those processes through automation, removal of un-necessary steps, creating new workflows and ways of thinking about the processes. Discuss them with management as well as the individual teams that are affected.
4.Do it
Create / modify existing workflows using open-source or affordable software tailored to the needs of the organization.

Run a pilot with an insightful and carefully selected group of individuals from across teams to test and verify that the desired changes take place.

Communicate the switch-over deadline and provide training to users. Roll it out to the rest of the organization.
5.Reflect
Gather feedback from users, implement ad-hoc improvements as agreed with the business. If possible, measure the outcome to allow comparison with the initial state - numbers can be easily transformed to hours and money saved.
How do I work?
Click on each step to find out!
Jan's Previous Projects
Here are some examples from my previous work - some of my guides and tips are based on this work.